announced by ASUS The Zenbook 17 Fold OLED is the world's first 17.3-inch foldable OLED laptop. This laptop has 60Hz/0.2 ms 2.5K foldable OLED (FOLED) touchscreen.
Zenbook 17 Fold OLED specs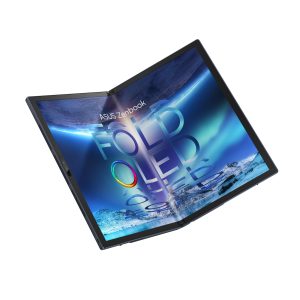 An ultra-compact and lightweight 12.5″ laptop that unfolds into a versatile 17.3″ device with 6 modes.
The Zenbook 17 Fold OLED laptop includes a Bluetooth version of the ErgoSense keyboard and touchpad. The keyboard can connect to two Bluetooth-enabled devices and switch between them with a dedicated button. The keyboard includes a large ErgoSens touchpad protected by a durable anti-fingerprint coating.
ASUS says it perfected the hinge mechanism to withstand at least 30,000 open/close cycles. To put this in context, if a user opens and closes the laptop his 6 times a day, this represents his 9+ year lifespan. Adopts a stepless hinge that firmly holds the upper screen at any angle.
The Zenbook 17 Fold OLED is powered by the 12th Gen Intel Core i7-1250U processor and Intel Iris Xe graphics. For storage and memory, 16 GB RAM and 1 TB SSD are available. For connecting to peripherals, there are two convenient USB-C Thunderbolt 4 ports.
It also supports quick charging of the 75 Wh battery and connection to an external display.
The immersive surround sound capabilities of the powerful Harman Kardon-certified quad-speaker Dolby Atmos audio system enhance multimedia content. Dolby Atmos adds an exciting new spatial dimension to sound for an ultra-realistic listening experience. The speaker is powered by a smart amplifier that maximizes volume.
Zenbook 17 Fold Mode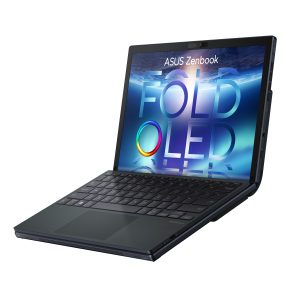 desktop: The open screen can be used with a wirelessly connected ErgoSens keyboard and touchpad to create a powerful big-screen PC.
Laptop (with Bluetooth keyboard): When you're on the move, place the keyboard on the bottom half of the folded display and it'll attach magnetically.
Laptop (with virtual keyboard): The lower display can be turned into a virtual on-screen keyboard.
Tablet: Users can take advantage of the full touch capabilities of the fully open 17.3-inch touchscreen.
reader: Align the hinge vertically — Rotate the Zenbook

17 Fold the OLED into the reader.
Expansion: Two 12.5-inch screens oriented vertically are perfect for users to seamlessly scroll between displays above and below. Therefore, Zenbook

The 17 Fold OLED can connect to an external monitor via one of the two USB-C ports.
Additionally, you can split each screen into multiple windows to arrange your content. This is thanks to the intelligent window management capabilities of ASUS ScreenXpert 3 and the exclusive Mode Switcher app. Despite its versatility and large screen size, the device weighs just 1.5 kg without keyboard and 1.8 kg with keyboard.
The Zenbook 17 Fold OLED has several smart AI-powered features, including:
User Presence Detection with HD IR Camera:

for

For example, it can detect when users leave their laptops, as well as fast face logins. When this happens, it dims the screen to save battery life and locks the laptop for security.
Built-in color sensor: For automatic adjustment of screen brightness and color temperature
a 5 MP AI webcam with 3D noise reduction technology For clearer video calls.
price and availability
ASUS Zenbook 17 folds OLED will roll out globally in Q4 2022. retail Starting at $3,499.